Facebook
Gifts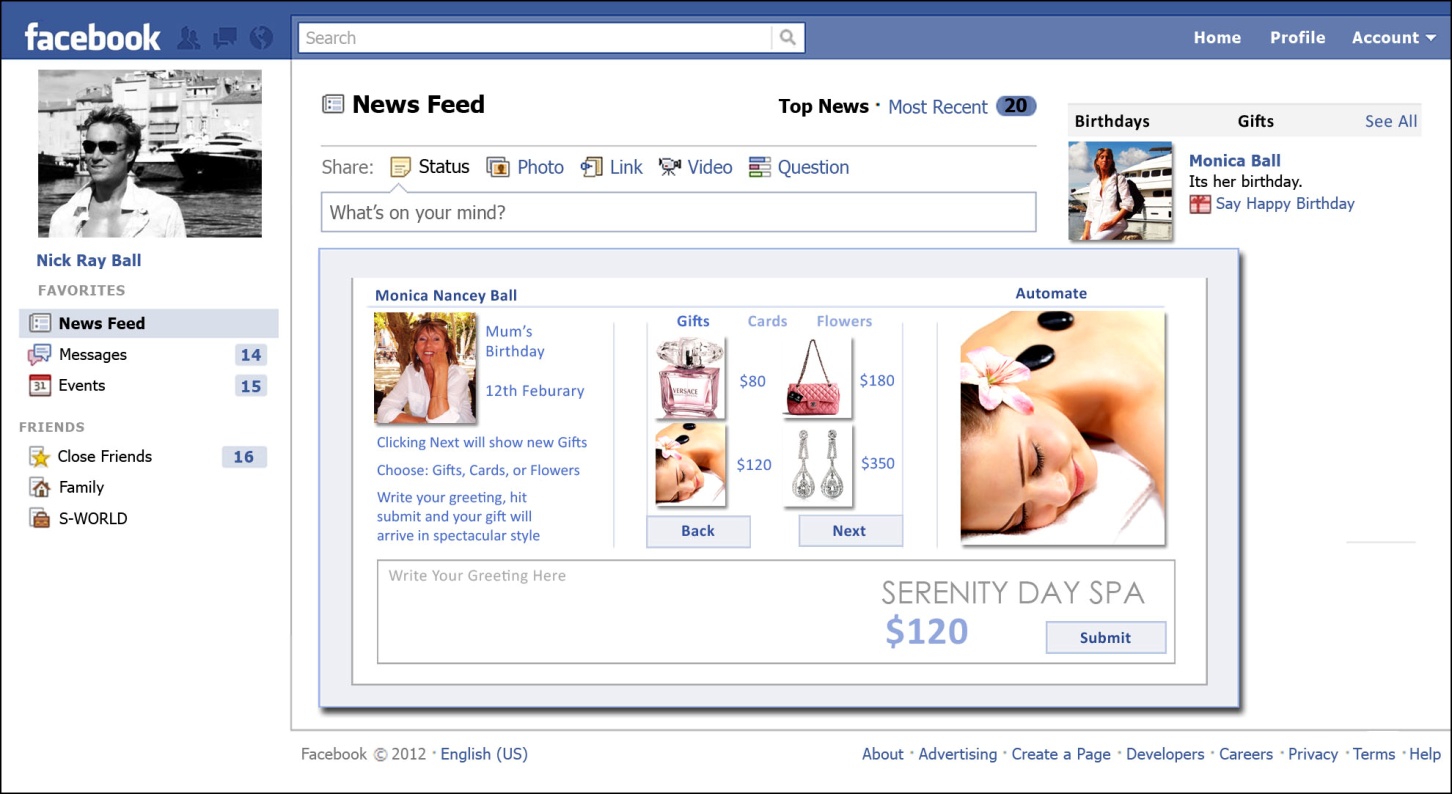 The beauty of Facebook gifts is everyone loves it and wants it. For some it will simply be a convenient way to send gifts and cards, for others a tool to spread happiness, for others a marriage saver. Thus far every single person who has seen the demonstration says they will use it. Reactions have varied from:
"This is the most amazing thing I have ever seen in my life…"
Andrew Lee, Film industry & Night club Owner
"I like that Facebook thing you did…"
Tracey Mc Gregor Actress & Model
"Yeah…It's about time they did something like that…"
Clair Metson … Search consultant within the legal sector
Even the patent lawyers loved it!
Moving into e-commerce in a standard way would be a very hit or miss affair for Facebook. It may well put members off, added to this is the "if you're going to do something, you're have to be the best, Facebook philosophy."
Facebook Gifts is simple, clean and unobtrusive (it's just one word added to the birthday bar) and due to the network and the "per human results search engine" it's a significant improvement over all competitors.
The pop-up box appears when you click the button that says gifts later, some other functions will be available, for choosing the type of gifts displayed such as: For Him, For Her, Mums, Dads, Novelty, Clearance, $5, $10…..
The "gift picker, pop up" shows only the most popular items. There will not be endless options but rather a concise selection, which due to collective ordering greatly reduces the price, not only will one receive the highest ranked presents, one receives the highest ranked presents at wholesale prices. A more varied selection of gifts will be available in a separate window. The "local" button sets the gift picker to display only gifts in stock at the nearest resort network, thereby making orders placed before 10.30 am deliverable on the same day for a reasonable fee or available the next day for free.
The simplest part of all is the mathematics, if each of Facebook's 900 Million members, ordered one present as illustrated annual revenue would be $108 Billion.
The Africard
The Africard logistics are simple. The card will be written along with a short note by a child such as Noboe for which he receives $2. Having lived in Africa for 11 years and eventually realizing I was spiritually more akin to the Mandela Park Township Folk than to any other group organization, I can confidently assure you that in Southern Africa $2 for an hours work is a considerable amount of money. Go deeper into Africa and it's a fortune.
The Africard principle is in many ways sponsorship of an African Child and their family. This concept provides much needed money and promotes literacy and the learning of languages.
If everyone on Facebook sent one Africard a year, 750,000 African children and their families would enjoy a sustainable future, if everyone sent 10 cards, well…. The math is simple.
All cards sent will be made from 100% recycled paper.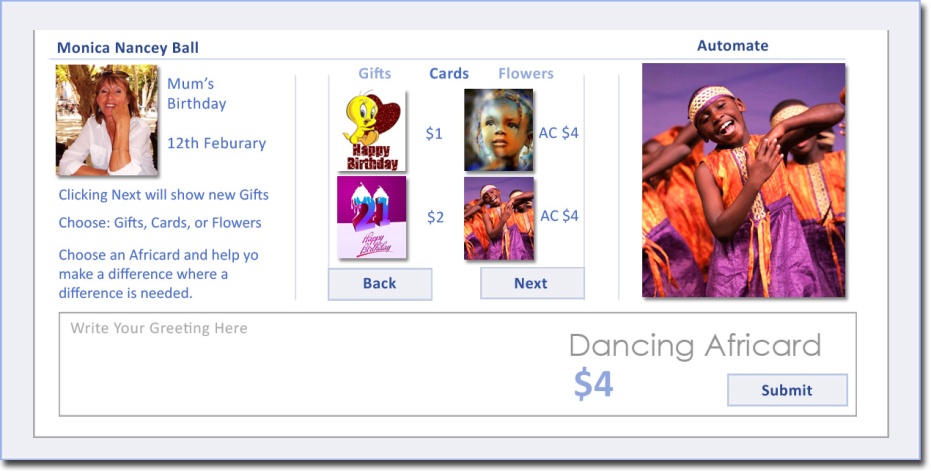 Facebook
Gifts Kids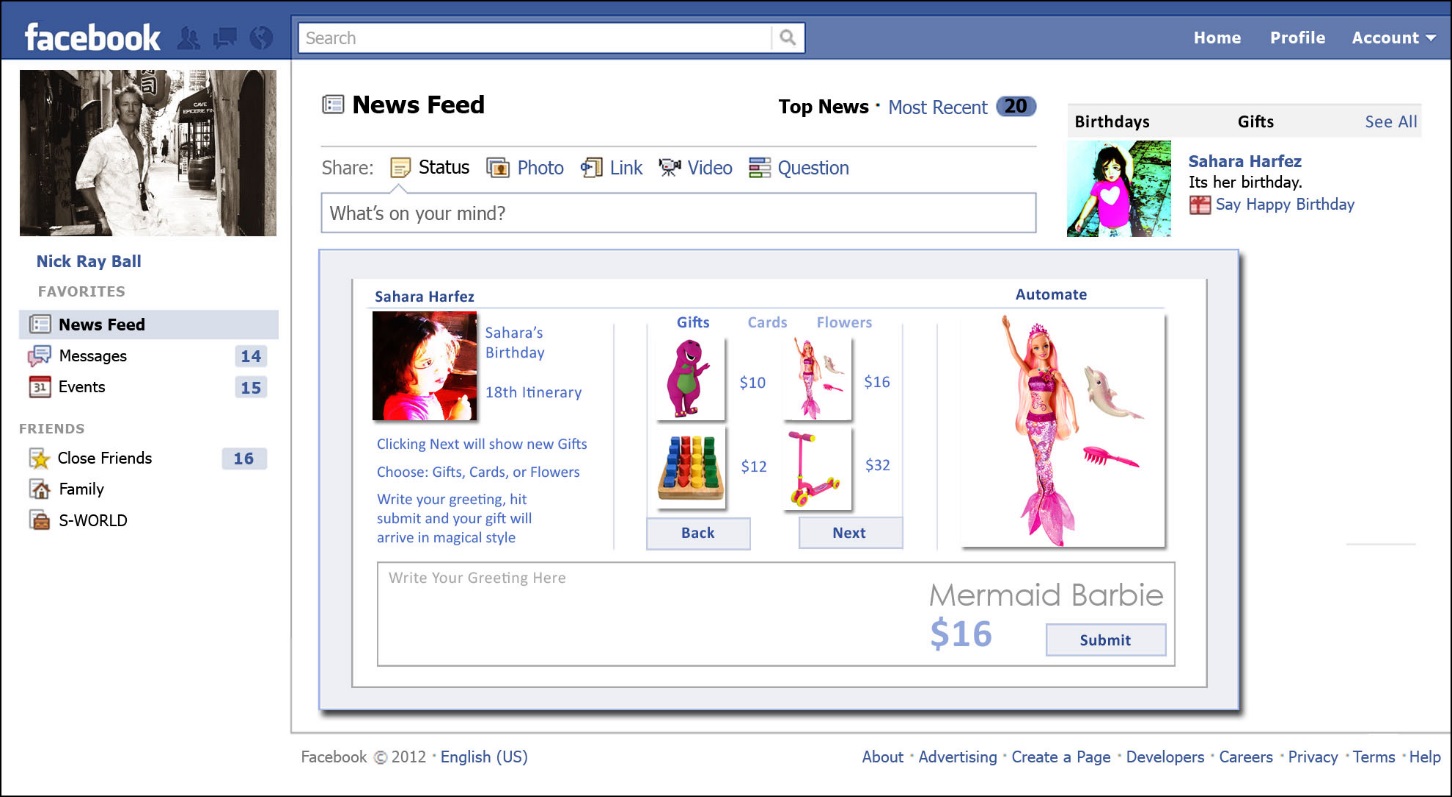 Whether or not parents or indeed Facebook will encourage the idea of children having Facebook accounts is a decision not of my making, if one wanted to send a gift one could always input the recipients address details. However Facebook gifts kids becomes the prefect branding tool. Consider Coca Cola, why does everyone love it, because we loved it when we were kids and it stuck. Kids love presents more than anything in the world, if on every present a child receives they see a little facebook gift tag,……
In the immortal words of Chandler Bing "could there BE a better branding exercise."
Facebook Gifts Automation
Full credit for this addition to Facebook Gifts goes to Mike Enslin, S-World No2: his concept turns a profitable initiative into a money-making machine. It also solves a number of start up logistics problems, as it will be some time before the parent resorts are set up to handle packaging and delivery. Automation also assists "occasional" Facebook users.
To use, one simply goes to the automation page and picks gifts and card choices for the year ahead. One has the choice for gifts to be delivered directly to the recipient or to receive them personally, so one can give them personally. Besides the wholesale rates and convenience, this eliminates one having to wrap the gifts, as gifts arrived pre wrapped, and if one desires, extravagantly pre wrapped.
The convenience of Facebook gifts is further highlighted in the relatives and friends groups, gifts and cards that most would not often send due to the time and effort involved and in general not having access to the addresses. However, from a personal perspective if I had forty or so birthday cards and a dozen or so novelty presents on my birthday, I would be delighted.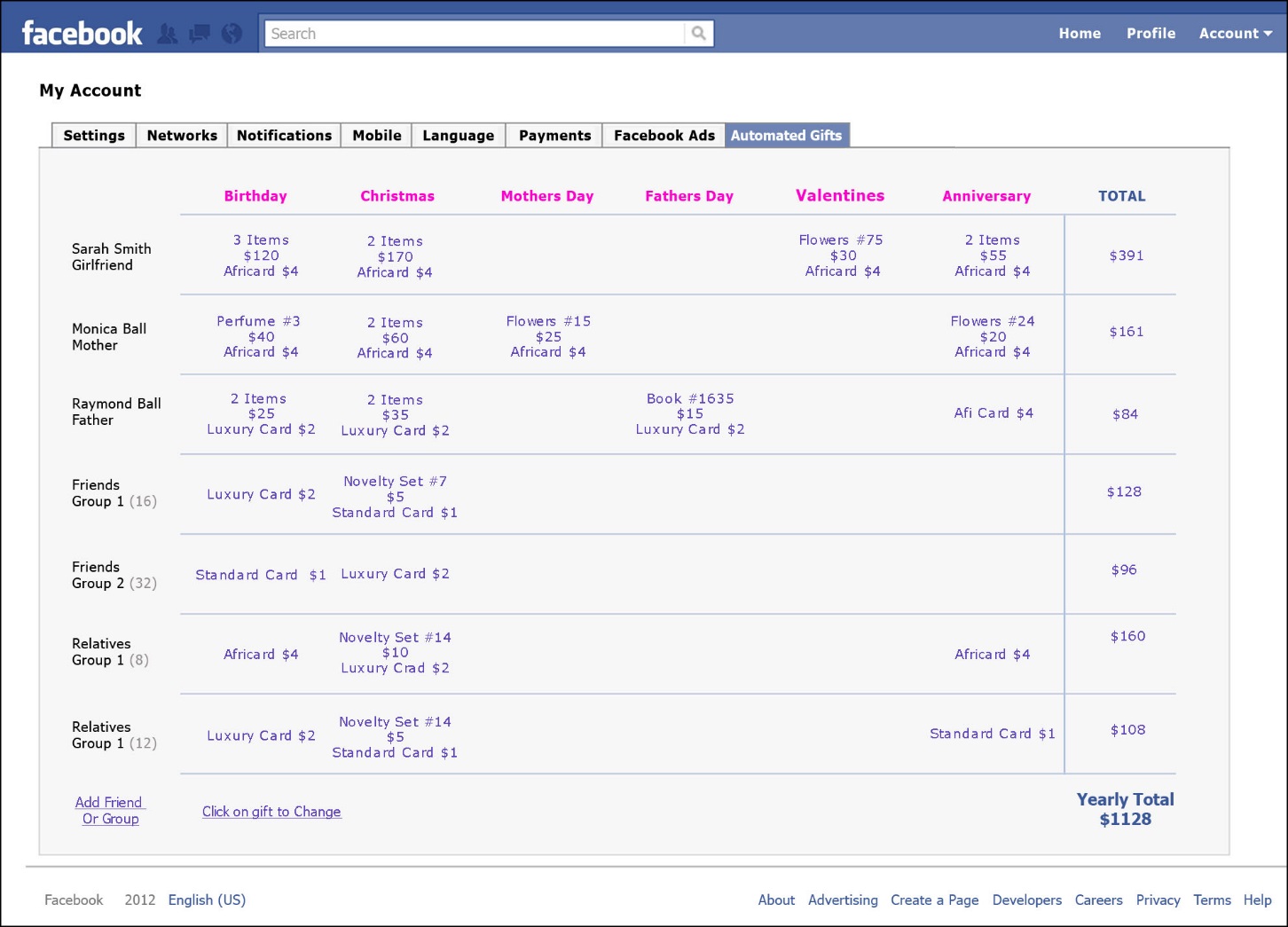 This action, particularly with relatives, has significant Facebook membership implications. I have about 20 relatives I'd like to send cards and small gifts to, but less than half are on Facebook, particularly the older generation. Whether one actually wants to have Grandma seeing ones daily posts is a personal decision, so some privacy settings will need to be enabled. This said I'd certainly want all my relatives on Facebook Gifts so I could send them presents, and knowing Grandma and Pops' they would love nothing more than receiving them, so Facebook manages to attract many new members, and as they will know, the baby boomer generation spends a lot more money than siblings generations.
Once more this exercise is circular, if ones grandchild asked grandma to sign up so she can send grandma gifts, it would make sense to Grandma that her granddaughter would like to receive gifts in the same fashion. Indeed this phenomenon could see more money being spent on Facebook gifts by new members than current.