UCS Game play
UCS game play is exactly the same for the boss of a company, as the staff or general public simulation players, in creating innovative game play concepts for S-World UCS, a many concepts translated into the makeup of the actual network and how people will interact and conduct business. At this point the simulation and the way we wish real life business within the network to be conducted become one in the same.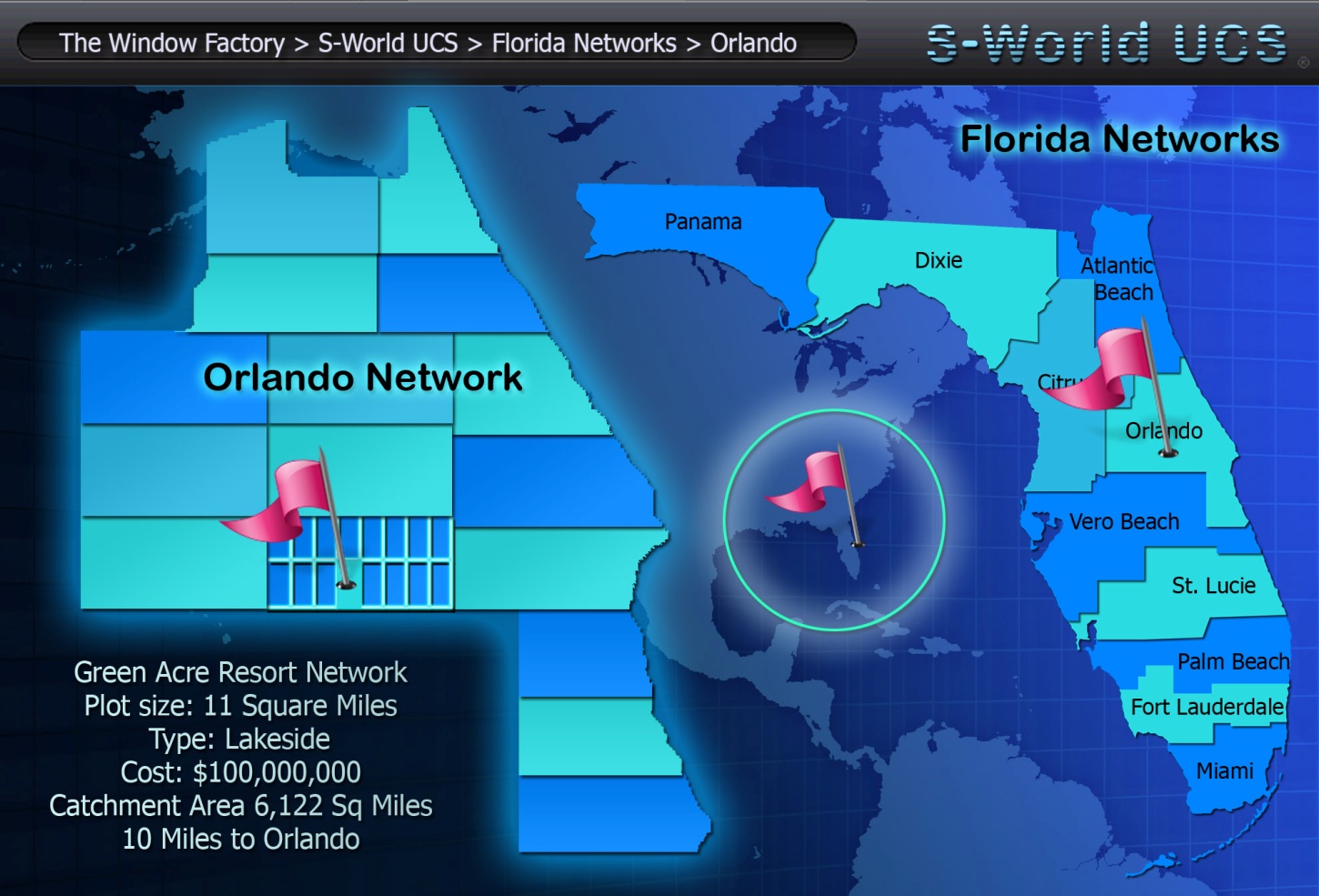 In the map above we identify the network where the Window Factory are located, a real plot available for purchase for $100,000,000, ten miles from Orlando on a large lake, within an eleven square mile plot.
Once established the Widow Factory will be able to bid for tenders in networks that do not have suppliers of Aluminum Windows. Within the graphic to our right we see that two networks need a supplier, of aluminum windows.
To the right, a zoom into Fort Lauderdale shows a tender with a PQS (Predictive Quantum Software) estimated value of between $4.6 million and $6.9 million. In this scenario to acquire the tender, a cost was incurred equaling $e 1 million and 10% of actual profit, the concept of advantageous partnerships coming in exchange for $e does not affect the Window Factories EEE score, in 2018 the Window factory are forecast to generate $e 2,189,701, within that year if they wish to acquire the Fort Lauderdale tender, it will cost them $e1 million, leaving $e 1,189,701 to spend on other items, retaining their yearly total which becomes their EEE score.
$e can also be applied to applications for tenders and partnerships, In the real world this process greatly increases the thought and preparation made in applications and sees only serious bids. Much like a Pay per Click add on GOOGLE, it does not mean the company is of any better quality that any other, it does however illustrate their serious intent to conduct business.
The same principle can be applied to staff and contracts:
If it is free to apply for a job, or to pitch for a contract then many will apply, if however, applications come with an $e cost, then it assists the employer or contract owner as they will know, the applicants interest has a value, not only saving time in going through many applications or CV's, more importantly, by identifying someone who is willing to part with $e to be interviewed, one only sees, willing employees who have given the matter sue thought.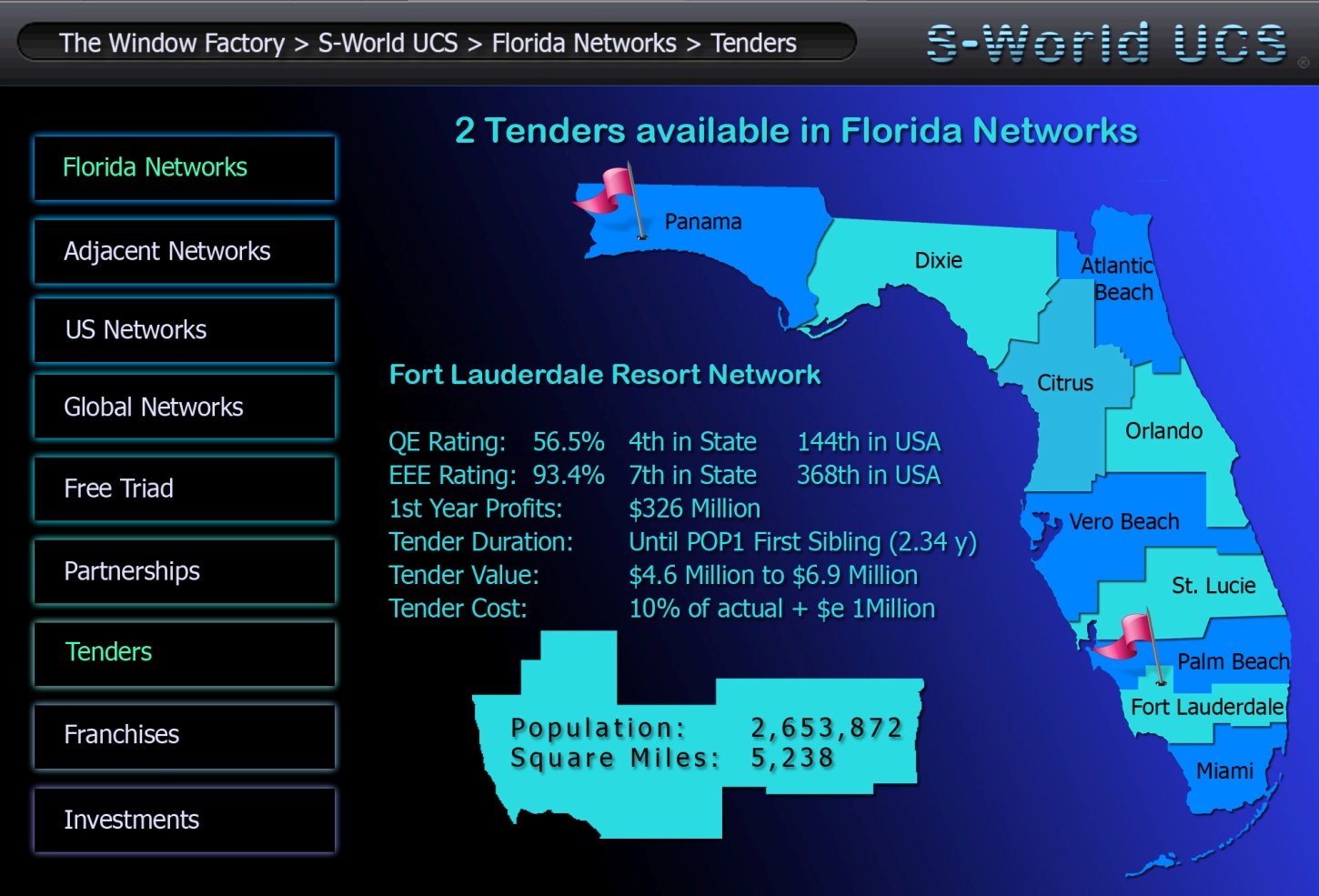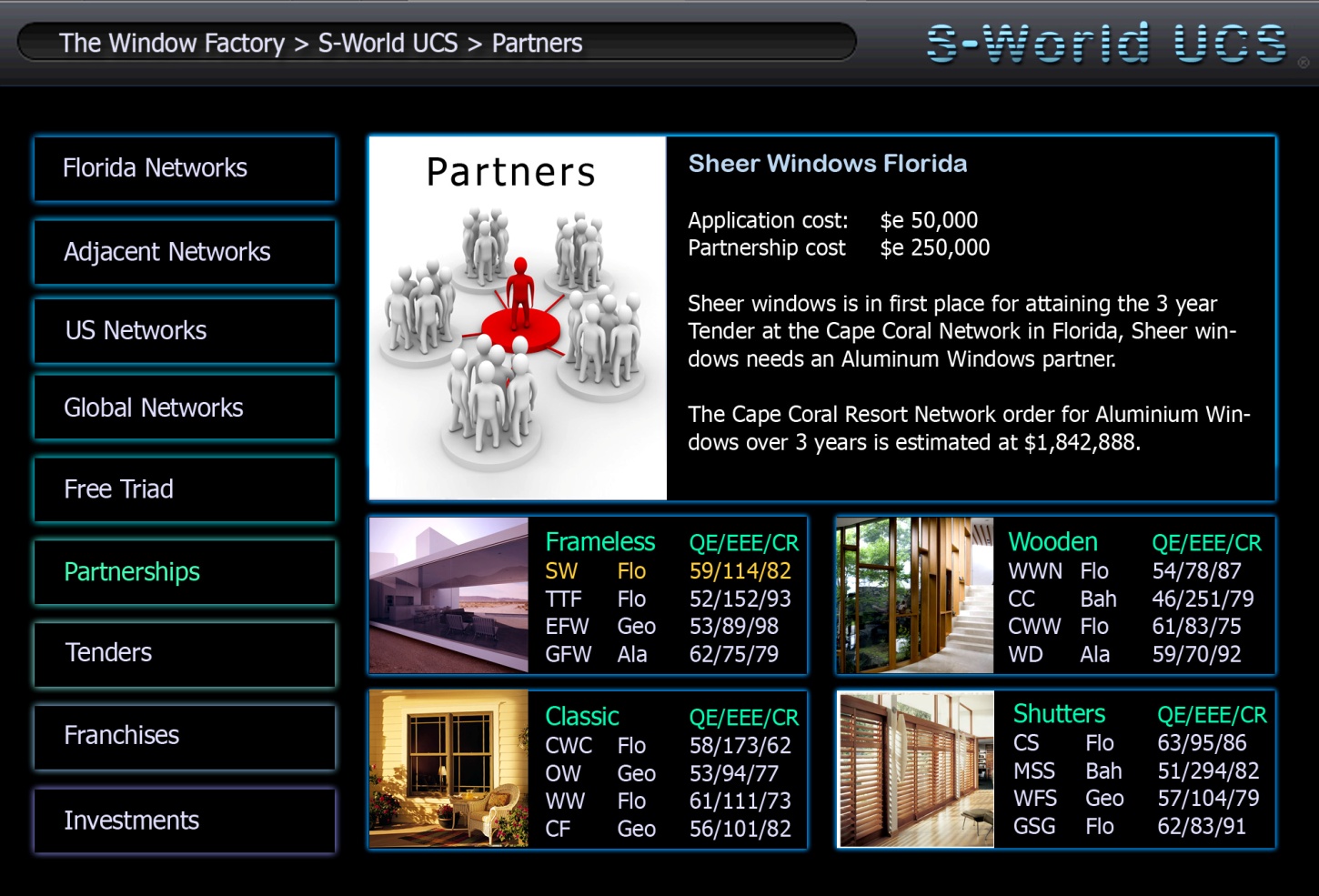 Above we see the "choose partners page" offering information specific to creating a partnership. In this scenario, the Cape Coral network is looking for a supplier for all window types, as a result, the Window Factory is required to make partnerships with other window manufacturers in different sectors.
The screen offers information on Florida network companies that produce frameless, wooden and classic windows alongside a company that specializes in shutters.
Highlighted is Sheer Windows, who are close to attaining a joint tender worth nearly $2 million for the Window Factory, however, there is an application cost of $e 50,000 and a partnership cost of $e 250,000
This said, if staff or outside simulation players have already played this scenario within their own UCS game and made contact with various staffs from Sheer Windows, the cost may be negotiated lower, and the competition may be less.
At the bottom of the screen to the right we see other network companies that one can make partnerships with, displaying first the initials of the company, followed by their location, in this case either Florida, Georgia, Alabama or the Bahamas. After which the QE (Quantum Economic) score is presented, followed by the companies EEE score, and finally its Consumer Ratings score.
In general with both simulation players and business owners, the accumulation of $e is of benefit, as one can apply for and make more partnerships and attempt to gain more tenders as such, encouraging all who would use S-World UCS to assist the system to reach its ambitions and rewarding those that assist.
An additional useful side effect is the ability to assist struggling companies, be they suppliers or retail or entertainment. For example, if within a resort network there is a particular restaurant that offers a good service, food and experience that is due to "sods law" underperforming, one can temporarily raise the restaurants EEE score, and assign additional e$ to anyone who eats there, if they offered a 4 multiplier, and were close to the business sector (which most would be) then increased lunch time trade will soon increase their profits. This is just one of many advantages of EEE Scores and e$.
POP Expansion
"POP" Expansion is detailed extensively within American Butterfly books two and three, initially the process called "Baby POP", sees mother network profits invested in such a way as to eventually creating a further 15 resort networks within the mother networks local area (+/- 6000 sq miles). Where after Angel POP sees investment into other areas.
Below we see a global map that presents POP franchise investment opportunities within the same industry as the Window Factory is skilled.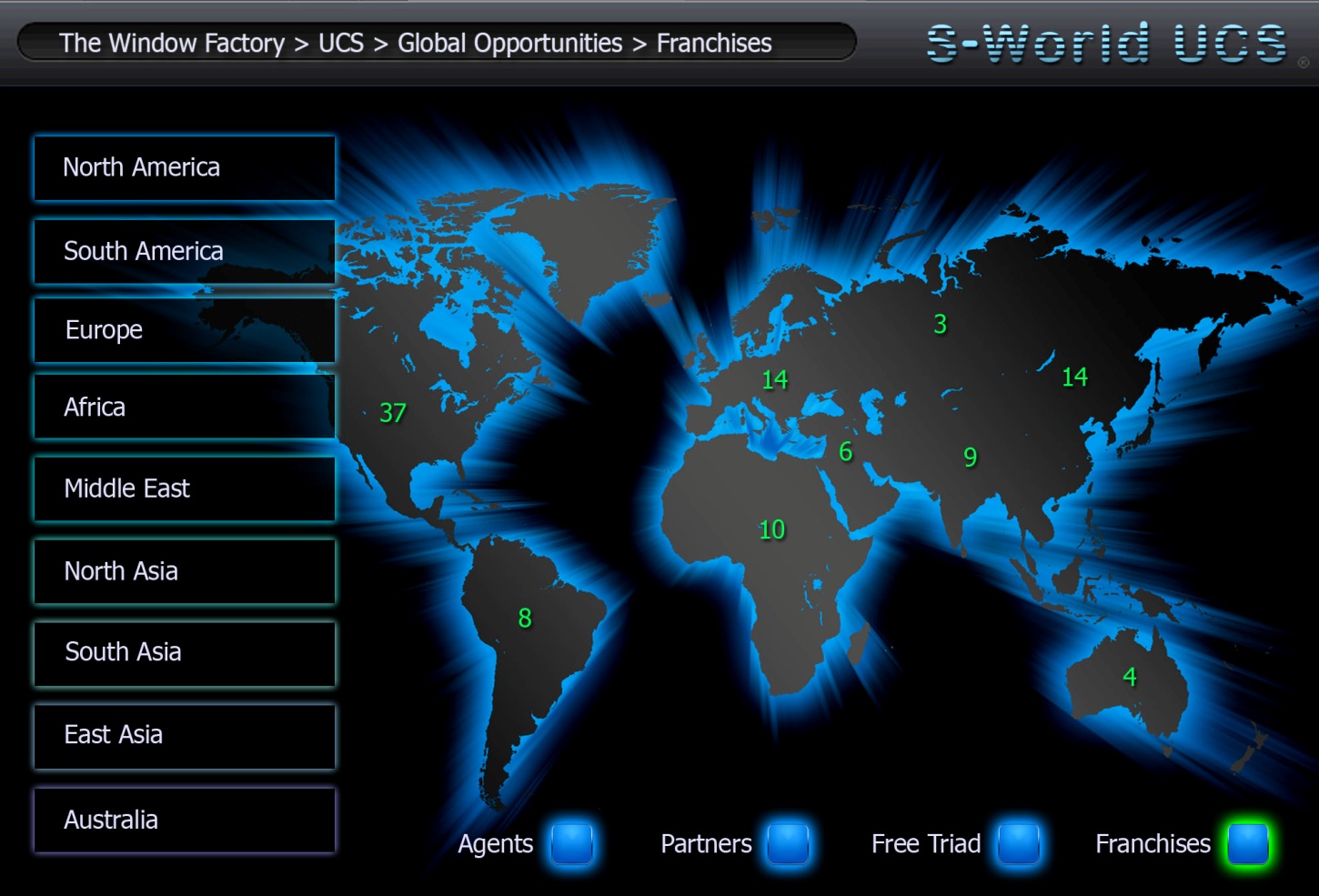 However, in the scenario, below we see that due to the Window Factory having an EEE score under 100% it is precluded from applying to invest its POP funds into creating an additional US operation. Where-after it is advised to invest in a network that gives bonus EEE points.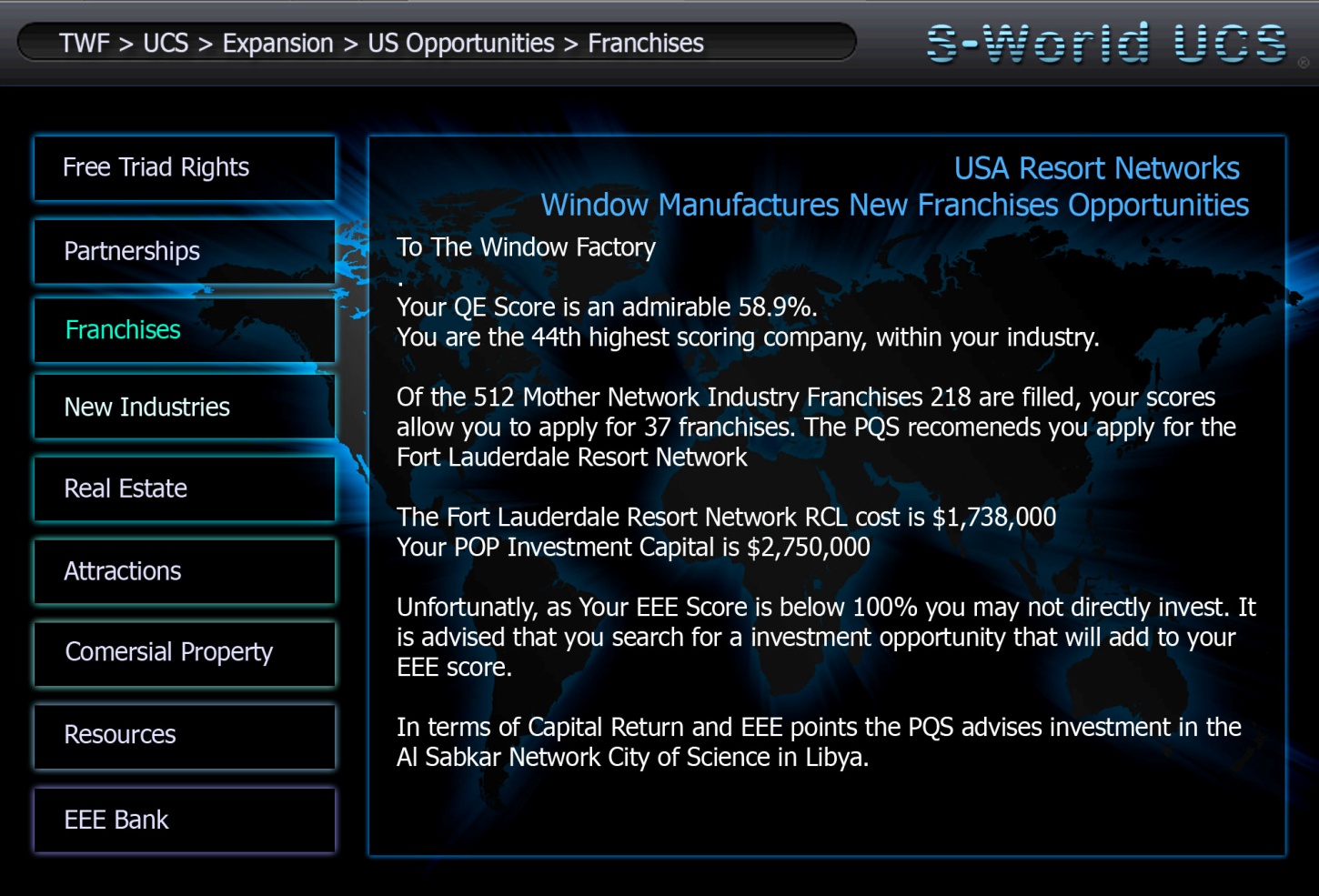 To the right, at the top we see a screenshot of zooming into the African Continent, which in terms of gaining additional EEE points is a ripe with opportunities. The Blue markers indicate mainly economic opportunities, the red award additional EEE points due to philanthropic gains to the local population, whereas the green markers indicate networks are planned within the ecological Special Project "African Rain" a vast solar powered desalinization project aimed at turning vast chunks of the Sahara desert back to its pre "influenced by mankind" fertile state.
On the bottom right we zoom into the Network City of Al Sabkar in Libya, presented as it was the first Network City, considered before New Sparta and long before the USA.
Alongside general information about the development, four sets of statistics are presented detailing the construction timeline, costs, returns and the increase in EEE points attained. In this case, by electing to invest in the Al Sabkar network the Window Factories EEE score would rise by 12% so achieving a plus 100% EEE score, thus enabling the window factory to apply for lucrative tenders within the USA. Further to this the Al Sabkar network itself is forecast to offer hansom returns.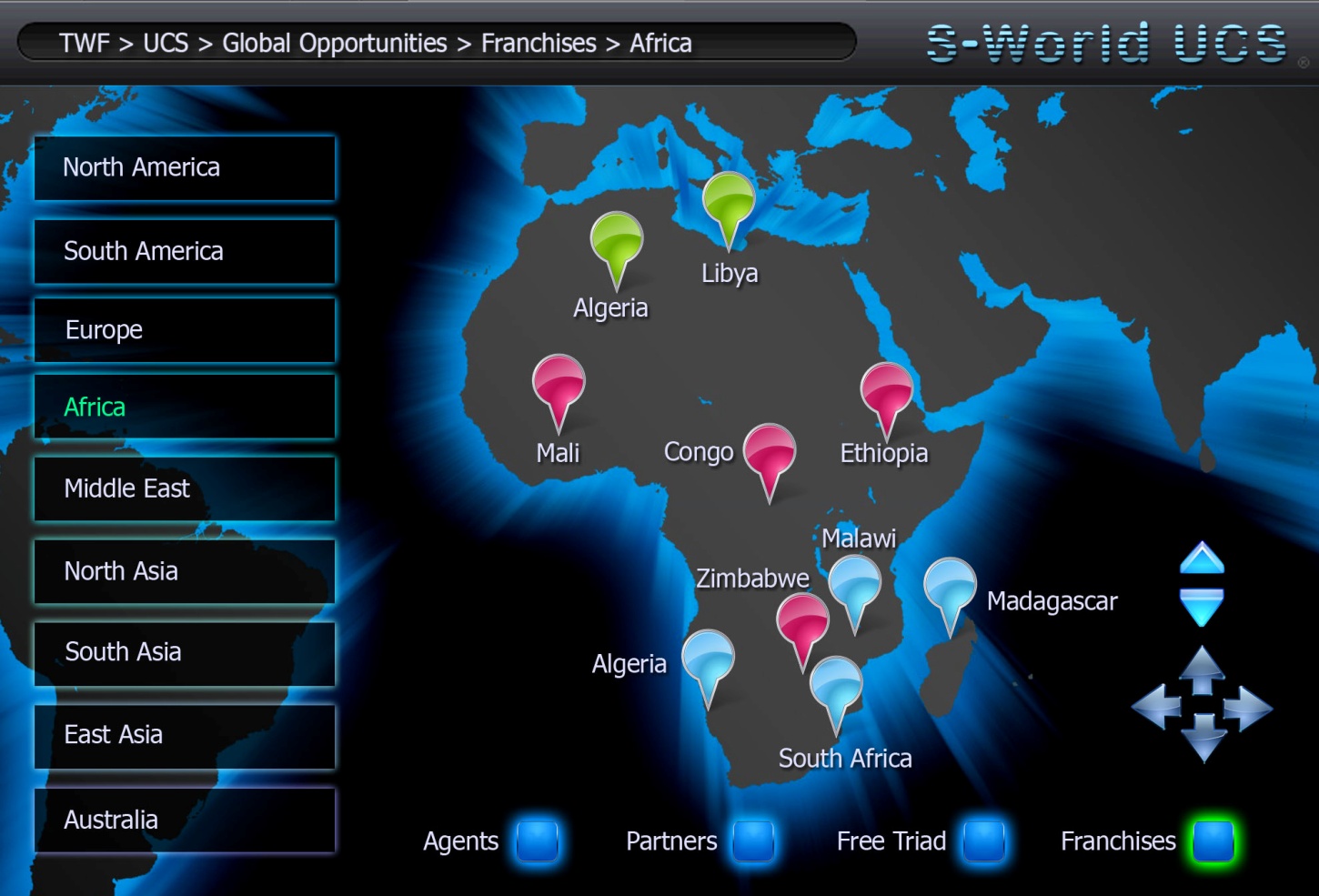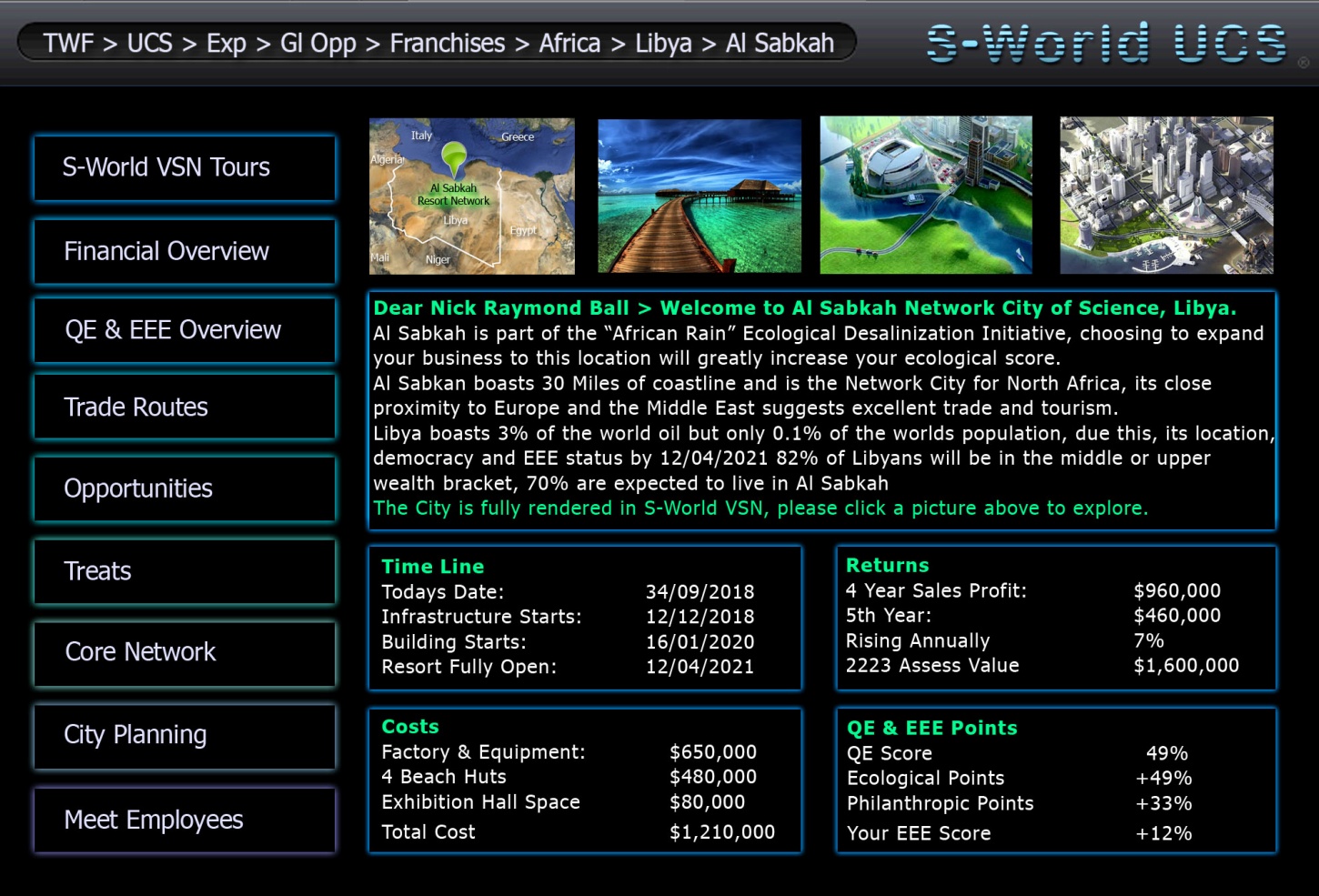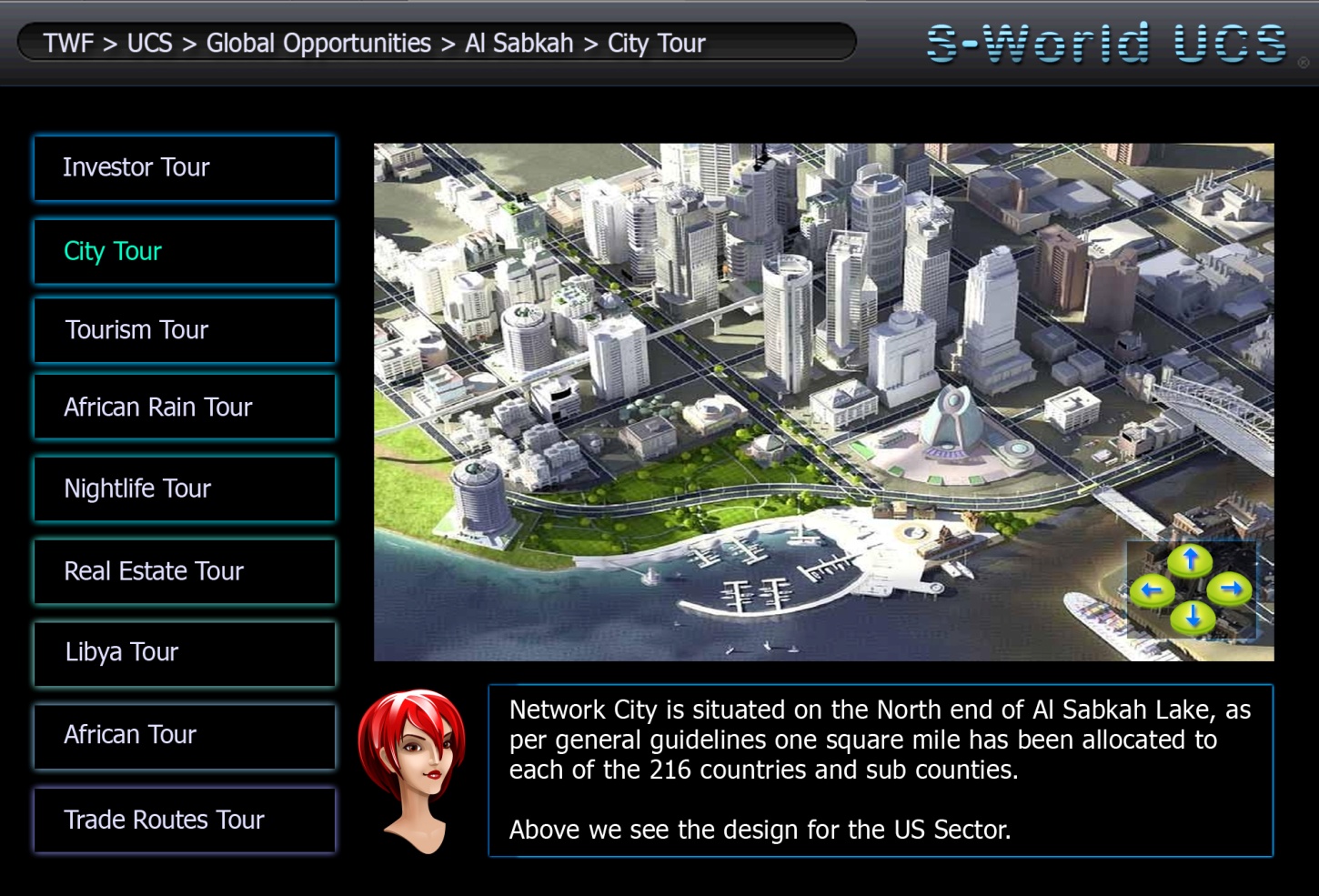 Graphics by: "Sim City" (S-World's preferred virtual rending software partner)
Now we see the Al Sabkah network via S-World VSN, and have the opportunity to explore the entire city as it will look when constructed.
Above we look at the design for the US sector within the city
Top right we see the permanent expedition centre within which, the Libyan franchise of Window Factory will have a stand
Bottom right we see an option to purchase a selection of beachfront properties, that will be owned by The Window Factory.