http://theglobalchallengeproject.blogspot.co.uk/2009/08/theories-behind-global-challenge.html and explanation as per Chaos Theory to Lee Chazen's Global Change Project, a new innovation in teaching and learning which pits classrooms across the globe into academic competitions, inspired a new territory gain consideration into the gaming element to S-World, and the start of a dedicated chapter, following on from the S-World introduction chapter which concluded The Theory of Every Business.
But first a name needed to be considered as "The Tutorial Game" was less than inspired.
The name S-World Universal Colonization Simulator was chosen, as it was the most adventurous of the American Butterfly special project initiatives.
The chapter was to tell the history of S-World UCS then present various components, including its ability to be:
A training and education platform.
A platform to highlights Special Project ambitions.
A scoring system that measures companies and staff QE & EEE Scores, and encourages behavior and spending patterns that assists networks ideals and economics.
A competitive gaming platform which encourages competitiveness, whilst making real business more fun and a lot simpler.
S-World UCS was originally considered in 2004 in the form of "Villa Mogul", having created many panoramic virtual tours of Cape Town and South Africa including many scenic and various properties and hotels, the images were to become the visual stimulus for a turn based management computer game, based around four games available at the time.
Championship Manager, a soccer management game that relied on team building, tactics and financial management, Railway Tycoon, which intertwined territory expansion and finance, Civilization, which combined research and territory gains and Tropico which detailed the expansion of a holiday resort.
The idea was to create a turn based management game/simulation, where the user started a small travel business and built it into a global travel and real estate empire. The differences between Villa Mogul and other business simulation games available at that time were three fold: Firstly, the Virtual Tours and maps, when displayed in Apple's QuickTime gave the game a visual edge over its competitors. Secondly, as Villa Mogul was based on a real business, the real business would receive additional exposure and business. Thirdly, the game/simulation could become a recruiting tool for franchises; the players over a certain age with the highest scores given start up funding and a real travel franchise.
However, one problem with the franchising concept was that those who won the game would probably not have the appropriate skills to run an actual business, as such, the system needed to handle finance, administration and customer service, whilst teaching the user various business and marketing skills. So over the following years research went into looking into financial, organisational and CRM (Consumer Relationship Management) software packages, eventually concluding that a combined system would need to be built from scratch, with the financial software linking directly to a bank and master accounting office. In essence, the franchises would not control their own finances.
Looking back, it's clear that Villa Mogul was a big influence on American Butterfly.
Below we see a look at how the game was to be set up in 2004, as seen within the S-World UCS interface.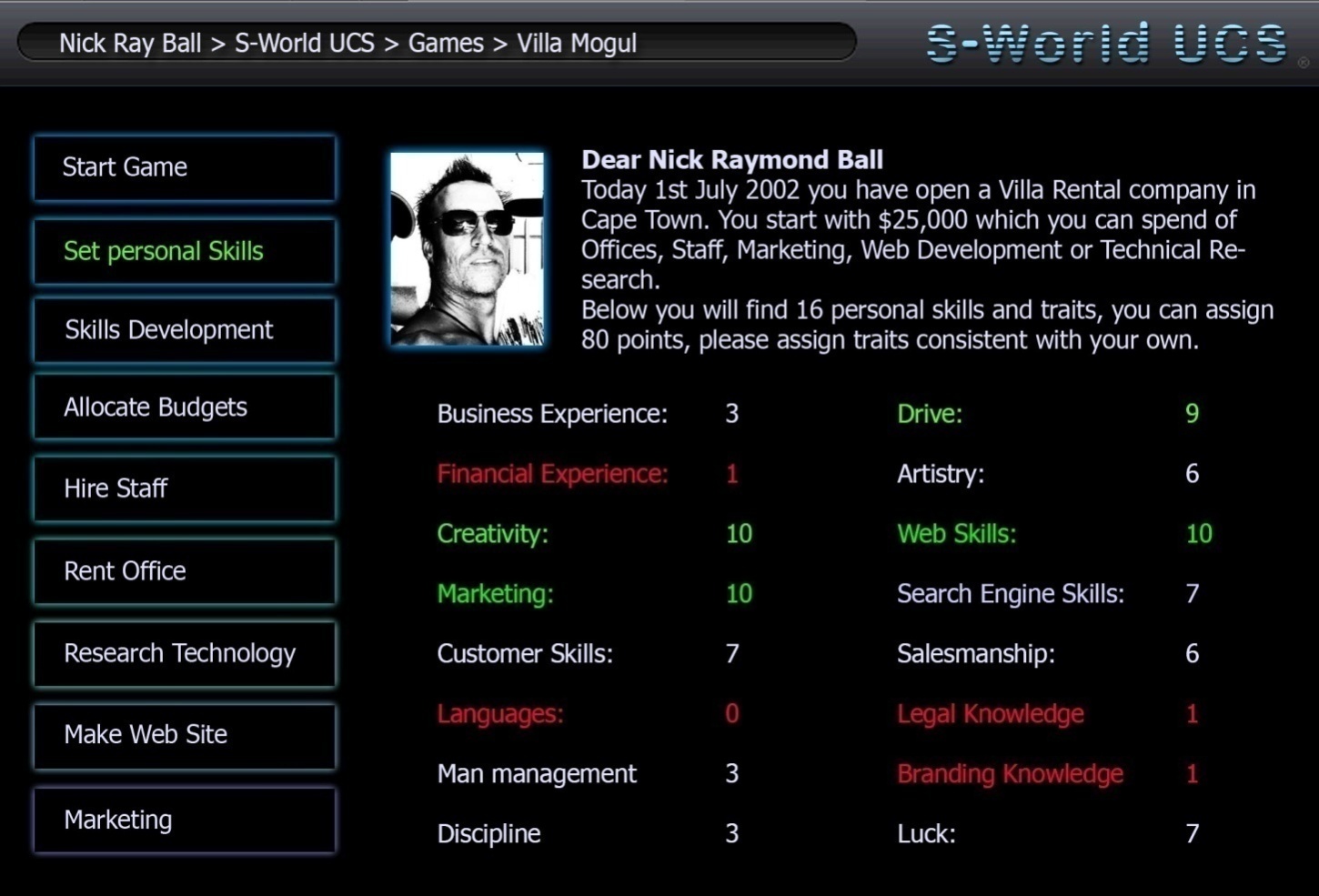 At the begging of the game one sets their personal skills and experience, chooses which skill they wish to develop further, allocate budgets between staff, premises, technologies, websites and marketing.
As one progressed through the game the general idea was to identify the pitfalls in the form of "hidden attributes" which contributed to the dreaded "other" field within the financial accounting section, and to make the player appreciate that if you have adequate marketing and superior visual, unless one really messes up, one will end up on top.
In August 2011, the Villa Mogul game was expanded upon as the first part to the business development plan for Facebook expanding into travel, as seen as chapter 14 on www.s-world.biz.